At Waverley Dental Centre, our dentists and dental staff work in collaboration with you to preserve your teeth and their supporting structures through preventive dental care.
---
Preventive dentistry involves identifying and controlling risk factors to prevent dental disease.  Oral disease prevention starts at home!  With good oral hygiene and a balanced diet, most oral health problems can be prevented.
At the Dentist's Office
Your dentist and dental hygienist work with you to restore and maintain your oral health in ways you can't at home. Prevention at our office includes regular dental exams and cleanings, as well as x-rays. In addition to these procedures, dental sealants and fluoride are helpful preventive treatments that protect your teeth from decay.
Overall, prevention treatment and techniques both at home and at our office will help you avoid serious and costly dental problems. Prevention is the key to a healthy, beautiful, confident  smile that lasts a lifetime.
---
Oral Care At Home
Diet
Even before you head to the bathroom to brush and floss, your at-home dental care starts by eating balanced meals and reducing the consumption of sugary snacks. Eating a wholesome, balanced diet is essential to keeping your teeth strong and healthy from the inside out.
Brushing & Flossing
Your at-home brushing and flossing routine plays an important role in achieving and maintaining good oral health. This daily maintenance prevents bacteria and plaque from building up and resulting in dental decay in the long run.
Many people don't brush and floss as frequently or thoroughly as they should. For optimum oral health, you should brush your teeth at least twice a day and floss each night before you go to bed.
Use the guide on the right to improve your brushing and flossing routine: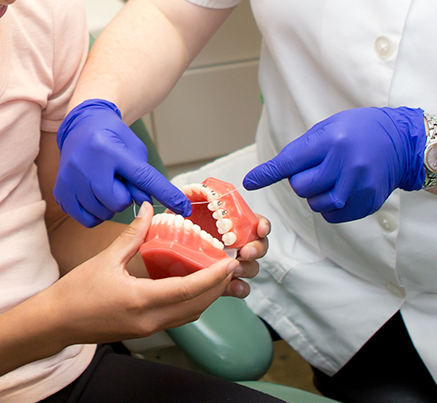 Brushing Tips
Place your toothbrush at a 45 degree angle to your gums and gently brush in small, circular motions. You should always be able to feel the bristles on your gums.  Be sure to use a soft bristled toothbrush and gentle pressure
Brush all the exposed surfaces of your teeth: the fronts, backs, and biting surfaces should all get attention.
Use the tip of the toothbrush to clean the backs of the front teeth, top and bottom.
Don't forget to brush your tongue to remove bacteria and freshen your breath.
We highly recommend electric toothbrushes as they are easy to use and remove plaque efficiently. Simply hold the bristles of the electric brush gently on your gums and teeth and move it around your mouth, allowing the brush to do its job, several teeth at a time.
Flossing Tips
You must floss in order to clean the areas between the teeth and under the gumline that your toothbrush can't reach.
Flossing helps clean these spaces and it disrupts plaque buildup, preventing damage to the gums, teeth and bone.
Cut a 12-18 inch (30-40 cm) piece of dental floss and wrap it around your middle fingers.  Leave about 2 inches (5 cm) of floss between the hands to work with.
Using your thumbs and forefingers, insert the floss between teeth using a gentle sawing motion.
Curve the floss into a "C" shape around both teeth and under the gumline. Gently move the floss up and down, cleaning the side of each tooth.
If you find this awkward, try using a floss holder (which you can purchase to your local pharmacy).
---
Questions about our services? Ready to book your next appointment?
We are accepting new patients – and are always excited to see returning patients again. Our team is here to help!