At our Waverley Heights dental practice in Winnipeg, our dentists provide services geared to the unique oral health needs of children.
---
Get your children on the path to life-long oral health.
Maintaining children's oral health at an early age and teaching them good hygiene habits, will have a significant positive impact on their future oral health, even into adulthood.
Our Winnipeg dentists love working with our younger patients to help them establish great oral health and beautiful smiles for life.
It's our mission to create happy, comfortable dental experiences for children so that they have positive associations with dental care as they grow up.
To this end, we cultivate a welcoming, fun and peaceful office environment and take steps to help kids develop a keen interest in maintaining their own oral health through engaging oral hygiene education.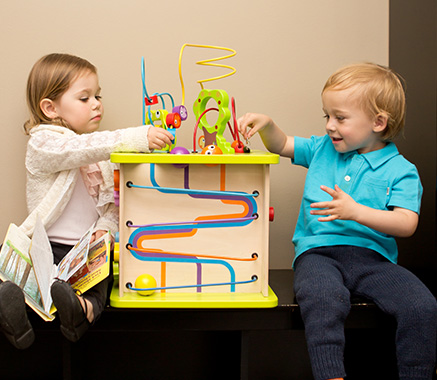 ---
My favourite part of treating children is the colourful comments and observations they sometimes share with me. Kids never fail to surprise you!
When should my child's first dental appointment take place?
Children should first visit the dentist as soon as the first tooth makes its appearance or around their first birthday.  
This early initial visit is important because it gives us the opportunity to diagnose, monitor and more effectively treat any potential issues.
How frequently should children visit the dentist?
To maintain good oral health, most children need a routine check up and cleaning every six months, just like adults do.
However, depending on your child's unique oral health needs, the dentist may recommend more frequent visits. 
Book a Whole-Family Appointment
We understand that our patients and their parents have busy lives, with jobs, sports, hobbies, and school obligations. This often means it's not easy to get everyone in to visit the dentist at different times!
To make life a little easier for everyone, we offer whole family appointment bookings so that everyone can get their dental needs looked after at one fell swoop.
---
Preventive Aids for Children: Dental Sealants
While brushing and flossing are the best way to prevent cavities, it can be difficult to thoroughly clean all the nooks and crannies in your teeth – especially if you're just learning! This is especially true of the back teeth (the molars), because of their uneven surfaces. The pits and fissures in the molars can sometimes be quite deep, making them an ideal hiding place for cavity-causing bacteria.
This is where dental sealants come in.
Dental sealants fill the pits and fissures in the molars, creating a smoother, more even surface. This makes the teeth much easier to clean, since the toothbrush doesn't have to reach deep into the crevices anymore.
How long do dental sealants last?
With good oral hygiene, dental sealants can last for several years before they need to be reapplied. During your child's regular dental checkups, the dentist will check the sealants to make sure they are still in good condition.
Questions about our services? Ready to book your next appointment?
We are accepting new patients – and are always excited to see returning patients again. Our team is here to help!