Clear orthodontic aligners from Invisalign help straighten teeth without the hassle and discomfort of traditional metal braces.
---
Why Choose Invisalign?
For people with busy lives, Invisalign is an easy-to-manage option for straightening their teeth while offering the appearance of wearing no braces. Starting from a digital scan, we can preview your what your new smile will look like with benefits not available with wire braces:
The clear aligners are removable and convenient
No wires 
Fewer appointments than with traditional braces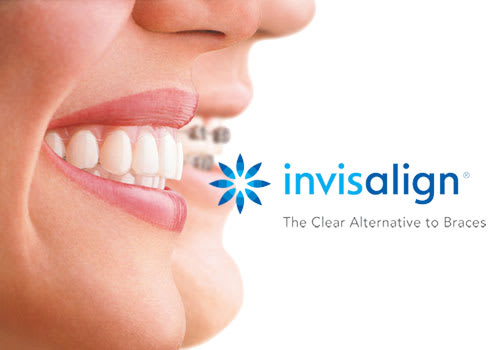 How Invisalign Works
If you prefer a more discreet way to move your teeth (vs. traditional wire braces), Invisalign may be a good fit for you.
After planning your new smile, we will produce a series of aligner trays that you will change approximately every two weeks. 
For the best results, we recommend wearing your clear orthodontic trays at least 22 hours per day, only removing them to eat, drink hot beverages, and to clean your teeth.
As your Invisalign treatment progresses, we will schedule periodic exams to monitor your progress so you stay on track.
Treatment time and cost is similar to traditional orthodontics. We can outline the specific details of your treatment after you have an appointment with your dentist.
Because Invisalign clear aligners are nearly invisible, you can wear them without affecting the appearance of your smile - and most people won't even know you're wearing them!
Invisalign for Adults
Invisalign clear aligners can work for busy adults who want to straighten their smiles by correcting one of the following:
Overbite
Underbite
Gap Teeth
Open Bite
Crooked Teeth
Many patients we see didn't have the opportunity to correct their teeth in their youth. Now, with the help of Invisalign, they can make a straighter smile a reality, without the hassle and inconvenience they might have had as kids with wire braces.
We invite you to book an appointment to discuss your smile goals and design a plan to give you the new 'adult' smile you envision. 
Questions about our services? Ready to book your next appointment?
We are accepting new patients – and are always excited to see returning patients again. Our team is here to help!