Porcelain veneers are an aesthetic option that help to improve the colour and shape of your teeth.
---
What is a dental veneer?
Veneers are wafer-thin shells of tooth-coloured porcelain that are bonded to the fronts of teeth to brighten and generally improve your smile. Porcelain veneers mask defects such as tetracycline stains, irregularities caused by injury or discolouration. They're also a great option for repairing chips and cracks.
---
What happens during the procedure?
During the first dental veneer appointment, your teeth will be lightly buffed down to make room for the added thickness of the veneers. Next, we will take a mould of your teeth and send it to the laboratory that will fabricate the veneers. Usually, the fabrication process takes a week or two.
Your second appointment will involve the process of bonding the veneers to the teeth. First though, your dentist will temporarily place your veneers on your teeth to evaluate their fit and colour to make sure you are happy with the way they look.
If you and your dentist are satisfied that the veneers look just right, she will apply them permanently with a special bonding cement and cure them with a special light beam.
Results
You may notice slight variations in the colour of porcelain veneers upon close inspection. This is normal even with natural teeth and won't be noticeable when your talking, smiling or laughing.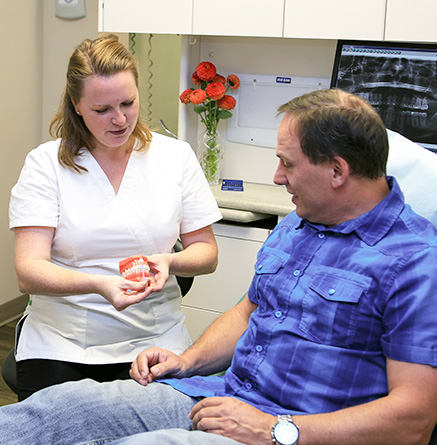 Contact us today to find out more about how porcelain veneers can help improve the appearance of your smile.
---
Questions about our services? Ready to book your next appointment?
We are accepting new patients – and are always excited to see returning patients again. Our team is here to help!